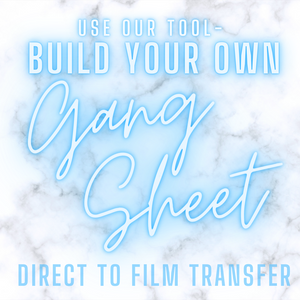 DTF (Direct To Film) GANG SHEET BUILDER - Build Your Own Gang Sheet
Regular price
$18.00
$0.00
Unit price
per


START BUILDING GANG SHEET HERE
👆🏻Use our tool to add your own designs and build your own DTF gang sheet!
RTS IN 3-7 BUSINESS DAYS. We strive for 3!
22" x 24" Gang Sheet fits approx. 4 - 10.5"/11" designs
22" x 48" Gang Sheet fits approx. 8 - 10.5"/11" designs
22" x 60" Gang Sheet fits approx. 10 - 10.5"/11" designs
22" x 96" Gang Sheet fits approx. 16 - 10.5"/11" designs
22" x 120" Gang Sheet fits approx. 20 - 10.5"/11" designs
--------------------------
Printing Guideline:

- PNG FILES MUST HAVE A TRANSPARENT BACKGROUND AND BE AT LEAST 300 DPI AT THE SIZE YOU WOULD LIKE THEM PRINTED (up to 11").
- All fonts in vector artwork need to be converted to outlines. Once your text is converted and sent to us it can no longer be edited.
- All lines need to be a minimum weight of 2pts. There needs to be enough ink for the adhesion powder to stick to. 
- Artwork is preferred in CMYK color format and.  No Pantone/color matching or changes on our end. We simply print what you upload.
WE ARE NOT RESPONSIBLE FOR DESIGNS THAT DID NOT PRINT WELL DUE TO A FILE ISSUE. Please triple check your file size, background, and resolution.

We print the files the same as you send them to us. There are no proofs given. However, if you would like a proof or need your art to be edited please email us at swanktransfers@outlook.com. There is an additional $5 set up fee per design. This fee is invoiced separately and must be paid before a proof is sent. To keep you from waiting on your order, after 2 business days of it not being paid we will proceed with production and print as is.
------------------------------------ 

Pressing Instructions:
Press at 325-350 degrees for 12-15 seconds.
Heavy pressure. Cold peel.
SECOND PRESS WITH TRANSFER PAPER OR TEFLON SHEET FOR 5-7 SECONDS TO REMOVE SHININESS.
Please note: Each heat press is different. Please test your press at different pressure/temperature/time settings to determine the best press for you!
These do not come precut. Before pressing transfers - Remove the printed color band that runs the length of the roll.  If this is pressed to your item it can NOT be removed once heat pressed.
All files uploaded are the responsibility of the customer. By Uploading your files you are claiming that you own the rights to these files.  Swank Transfers is not liable/responsible for any copyright infringement claims/charges. In addition the images you upload are for printing request purposes only and are not shared with anyone outside Swank Transfers.  
---