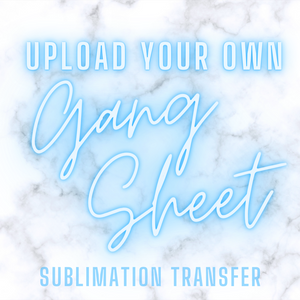 Upload Your Own Custom Full Color Sublimation Transfer
Regular price
$1.50
$0.00
Unit price
per
Instructions:
Use a lint roller on shirt to remove any loose threads or other particles. Place a sheet of butcher paper or parchment paper (non-waxed) BETWEEN the shirt layers to prevent color transfer during pressing. Place paper face down on garment and tape in place (optional) with heat transfer tape. Place another piece of butcher paper or parchment paper (non-waxed) on top of the transfer to prevent color from transferring onto your heat press.



Heat Press Application Instructions:
Temp: 400 degrees F
Time: 35 seconds
Pressure: Medium
Hot peel
---------------
Printing Guideline:
White in the art will NOT print, it will be the color of the shirt you put it on! Green color may vary due to monitor display variance and printer capabilities.You MUST use a heat press on sublimation transfers. An iron will not be sufficient for the image to transfer.

Sublimation transfers MUST be used on white or light color polyester items. Recommended Polyester count is 100%. Sublimation transfers can be applied to as low as 50% polyester but will have a more "vintage/faded" look. Images on sublimation transfers will appear "dull or faded" until they are pressed.
All files uploaded are the responsibility of the customer. By Uploading your files you are claiming that you own the rights to these files.  Swank Transfers is not liable/responsible for any copyright infringement claims/charges. In addition the images you upload are for printing request purposes only and are not shared with anyone outside Swank Transfers.  
---